Conference 'Forensic Cultures'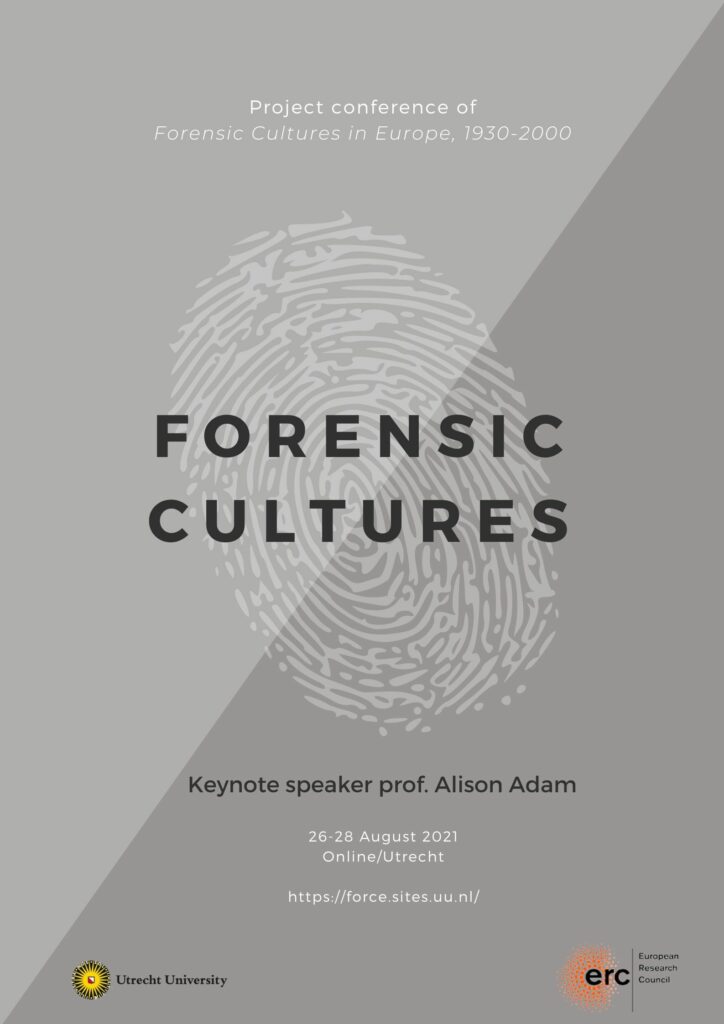 On August 26-28 2021, Utrecht University will be hosting the conference "Forensic Cultures", an international online conference on the critical study of forensic cultures. This conference is part of the ERC-Consolidator project "Forensic Cultures in Europe, 1930-2000".
In recent years research into the history of forensic science has expanded. In addition to institutional developments and advances in technology, increasingly the entanglements between legal frameworks, forensic institutes, technology and culture have been explored by historians and scholars from other disciplines. These entanglements come together in the notion of 'forensic cultures', which may be defined as the theory and practice of forensic science, medicine and psychiatry as they come to the fore in specific locations such as the courtroom, the mortuary, textbooks of forensic medicine, psychiatric assessment reports or the media. Moreover, these forensic practices are embedded in cultural contexts and political regimes. Forensic cultures can thus refer to both the representation and the practice of forensics. The conference aims to explore these different forensic cultures through a critical review of its constituting components and through different lenses such as Science and Technology Studies, praxiography, new materialism, history of knowledge, cultural theory, critical legal studies, and gender and queer theory.
The program will feature keynote Speaker Alison Adam who will be speaking on blood typing, gender and forensic objectivity. Other contributors will focus on local, national or transnational forensic cultures from the perspective of new empirical research and different theoretical approaches.
The conference will take place online. The call for papers has closed. If you would like to attend, please send an email to: forensiccultures@gmail.com. The link to the conference will then be sent to you in due time.
This project has received funding from the European Research Council (ERC) under the European Union's Horizon 2020 research and innovation programme (grant agreement No 770402).
A provisional programme can be found here. A provisional programme including speakers' biographies and abstracts can be found here.